When we think of flooring, we soon see the image of different environments in the house, such as the living room and the kitchen, which are usually coated with the use of ceramics or porcelain tiles, which help to create a cleaner and more charming look. decoration.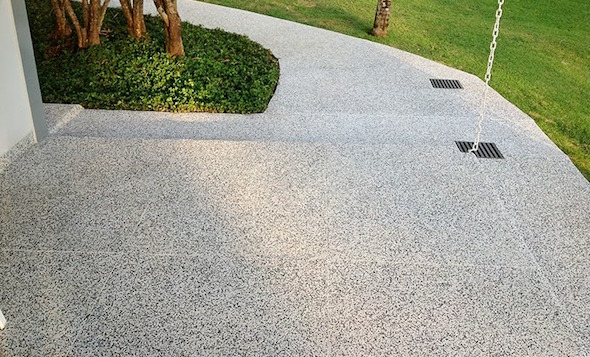 But the truth is that the floors are present in every corner of the property, as the front of the house, which can be decorated with several models of floors, which are suitable for every occasion.
In addition, a good choice of the floor to front of the house will ensure greater durability in an elegant way and that will further enhance your home.
Types of floors for the outside area of the house
There are several models of floors that can be used to coat the front of the house, and among the most used models we can highlight:
Cement plates: They are floors made of a mixture with sand, cement and stone, which is the most used in civil construction, and retains little heat;
Stones: Floors made using stones extracted from varied rocks, in more rustic (non-slip) or smooth (more slippery) models. Some models absorb a lot of heat, so they should be avoided in busy places;
Ceramic floors and porcelain tiles: They are made of tempered clay, and coated with enamelled material, which guarantees a more elegant appearance of the pieces. They can be found in plain or non-slip models;
Wood Floors: In this case, wood is the raw material that forms coatings, which are more porous and ideal for wet areas, but for this they must be lacquered periodically to withstand the climatic effects, such as sun and rain.
Each of these types of floors can be used in front of the house, according to the desired look in the decoration.
Tips for Choosing Flooring for Outside House Area
In addition to the type of floor, it is important to check some tips that will help you when choosing the ideal model to use in front of the house:
• In areas of passage, the ideal is the choice of floors that do not slip, especially at home with children and the elderly;
• Research on the required time of home maintenance type of floor, as it has hours that it pays to invest a little more, and thus have a tougher floor;
• Rustic stones are not indicated in places with children or pets, because in case of fall, they can hurt more easily;
• For a good choice of ceramics and porcelain tiles, it is important to know the product's PEI index, which measures resistance to friction. This index goes from 0 to 5, and in areas with large movements of people, and also of vehicles, the recommended ones are floors with index between 4 and 5, that are more resistant;
• Wooden floors can be used as decks, in backyards and balconies, which in addition to charming still offer a more comfortable environment to the feet.
With these tips the choice of the ideal model, and that also adds more value in the decoration will be a much easier task, and that will bring good results in the decoration. source: Wikipedia.org